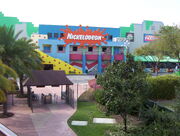 Nickelodeon Studios was a studio/attraction located at Universal Studios in Orlando, Florida. It first opened on June 7, 1990, and closed down on April 30, 2005. It's where Legends of the Hidden Temple is recorded at, alongside with other shows for Nickelodeon/Nick Jr. like, Double Dare 2000, All That, Kenan and Kel, Gullah Gullah Island, Taina, and many more shows.
Ad blocker interference detected!
Wikia is a free-to-use site that makes money from advertising. We have a modified experience for viewers using ad blockers

Wikia is not accessible if you've made further modifications. Remove the custom ad blocker rule(s) and the page will load as expected.