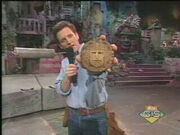 Pendants of Life
 are small, golden medallions with a picture of
Olmec
on the front that teams could win in the
Temple Games
. The first two Temple Games awarded half a Pendant to the winner(s), while the third Temple Game awarded a full Pendant. The team could take whatever Pendants of Life they had won into
Olmec's Temple
(1, 1½, or 2), and could exchange them for an extra life whenever they were captured by a
Temple Guard
or
Temple Spirit
. If a team won 1½ Pendants in the Temple Games, a half Pendant would be hidden somewhere in the Temple. If the runner with a half Pendant found it, the two halves would count as a full Pendant during the run; therefore, the team could lose by running out of time before they could reach or escape with the artifact. In the movie adaptation, both half pendants must be combined to create a single pendant and required to be taken to Olmec within three minutes.
Half Pendant Locations
This is a list of all the confirmed and possible half pendant locations in Olmec's Temple.