The Enormous Feather of the Mê Linh




Production Number

3-24 (104)

Airdate

December 7, 1995

Team

Contestants

David & Karisa

Artifact Location

Pendants of Life

1

Temple Layout

Previous Episode

Next Episode
​The Enournous Feather of the Mê Linh is the 104th episode of Legends of the Hidden Temple
The Moat
Slide belly down across the slippery path.
1st - Purple Parrots 2nd - Silver Snakes 3rd - Blue Barracudas 4th - Orange Iguanas
The Steps of Knowledge
1 - Purple Parrots 2 - Silver Snakes 3 - Purple Parrots 4 - Blue Barracudas 5 - Purple Parrots (Really, really correct) 6 - Orange Iguanas 7 - Silver Snakes 8 - Orange Iguanas 9 - Orange Iguanas
The Temple Games
1 - Knock over your opponent's warriors by rolling big boulders - Orange Iguanas won (2-1)
2 - Retrieve arrows hanging upside down and drop them in bucket - Orange Iguanas won (4-2)
3 - Swing your partner into the three statues - Purple Parrots won (3-1) with 23 seconds left
The Temple Run
David started by racing up to the Crypt and into the Pit of the Pendulum. He headed into the Tomb of the Headless Kings, where he met his first Temple Guard. He followed the bottom floor to the Dark Forest where he was taken out. Karisa got to the Dark Forest with 1:25 remaining. She stalled in the Quicksand Bog until Kirk told her what to do. She entered the Shrine and finally entered the Room of the Ancient Warriors with 32 seconds remaining. She got the feather with about 10 seconds left, but was only in the Pit of the Pendulum when time expired.
Watch Episode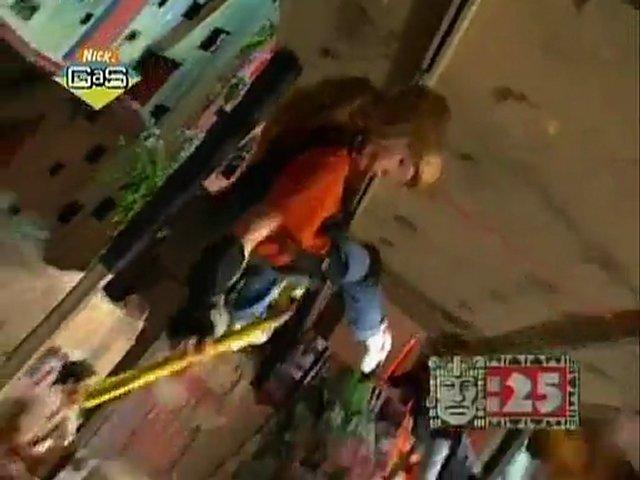 Notes
This was the last episode that featured an artifact in the King's Storeroom and the last time that an artifact was hidden in the Top of the Central Shaft.
This was first and only time that a contestant manages to make it to an artifact at the top of the Central Shaft in Season 3.
This was the last episode in the series where a member of the Orange Iguanas managed to acquired an artifact before time expired.
Ad blocker interference detected!
Wikia is a free-to-use site that makes money from advertising. We have a modified experience for viewers using ad blockers

Wikia is not accessible if you've made further modifications. Remove the custom ad blocker rule(s) and the page will load as expected.