The Golden Spider Web of Robert the Bruce




Production Number

3-16 (96)

Airdate

November 27, 1995

Team

Contestants

Christine & Jeremy

Artifact Location

1½

Temple Layout

Previous Episode

Next Episode
The Moat
The Steps of Knowledge
The Temple Games
Robert the Bruce's Castle (Trampoline-Net Maze)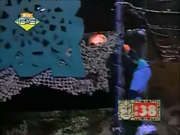 In the first game, Jeremy and Justin each had to climb Robert the Bruce's castle, collecting spiders and placing them on the web at the top. Justin won the game due to Jeremy attempting to take a short cut and was forced to return and take the proper path.
Coloured Spiders (Cubbyhole Web)
In the second game, Christine and Carolina each had to climb the giant web and trying to find a coloured spider in the cubbyholes at the top and placing them on the matching colored spots at the bottom.
Escape Scotland (Big "E" Wall)
In the final game, each team had to work together to escape Scotland.
The Temple Run
While the team could have made more progress by having the second player enter directly into the Crypt, they would still have had to pass through nine rooms before the artifact's, as the Shrine-Bog door opened, but not the Shrine-Forest one.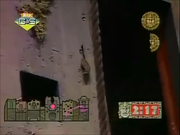 Furthermore, the team, entering with one and a half pendants, was essentially required to nab the hidden half pendant on the left of the Pit-Storeroom passage doorway because the three temple guards were inevitable. The team itself was above-average in terms of speed, but unfortunately, that was not enough to let them succeed here.
Temple Run Results
Watch Episode
Notes
Ad blocker interference detected!
Wikia is a free-to-use site that makes money from advertising. We have a modified experience for viewers using ad blockers

Wikia is not accessible if you've made further modifications. Remove the custom ad blocker rule(s) and the page will load as expected.