The Lost Whale Bone of Pytheas




Production Number

3-35 (115)

Airdate

December 22, 1995

Team

Contestants

Brittany & Damien

Artifact Location

2

Temple Layout

Previous Episode

Next Episode
The Moat
The Steps of Knowledge
The Temple Games
The Temple Run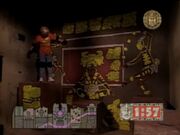 The team was in great shape up until the frontrunner was taken out in the Shrine of the Silver Monkey. The second player, Damien, was ridiculously slow, and even walked through the rooms. Yet, the team managed to be only a single room away from the artifact when time ran out. One thing to notice about this episode is how impatient Kirk is when Damien is running through the temple. He even said at the end You can't slow down too much in the Temple because they (Temple Guards) will get you and you will never get to the object.
Temple Run Results
Watch Episode
Trivia
This was the last Orange Iguanas Run of the series.
This was the last time an artifact was hidden in the center of the temple.
The Temple Guard in the Tomb of the Headless Kings did not exit through the Temple Guard door. Instead, he exited through the door that leads to the Pit.
Ad blocker interference detected!
Wikia is a free-to-use site that makes money from advertising. We have a modified experience for viewers using ad blockers

Wikia is not accessible if you've made further modifications. Remove the custom ad blocker rule(s) and the page will load as expected.