The Rock Quarry was a room in Olmec's Temple. It was located in the bottom half of the Pit area during Layout XII and accompanied by the complementing Troubled Bridge that occupied the other half of the room space.
The Rock Quarry had a fairly simple objective. Various boulders were placed on a raised platform in the back of the room, and in the front was a large bucket sitting on a pulley. The player had to toss five rocks into the bucket which would lower, and, in turn, raise a stone slab. From there, players could then hit the actuator in hopes of opening the door to
the Laser Light Room
.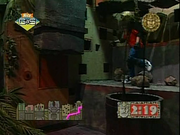 Trivia
The door to Medusa's Lair was never used - it even remained locked after a player had grabbed an artifact.
Ad blocker interference detected!
Wikia is a free-to-use site that makes money from advertising. We have a modified experience for viewers using ad blockers

Wikia is not accessible if you've made further modifications. Remove the custom ad blocker rule(s) and the page will load as expected.